Three Pokémon TCG experts have their sights set on a new Pokémon VMAX in Sword & Shield—Fusion Strike.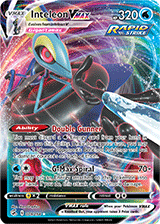 The new Fusion Strike Pokémon in the new Pokémon TCG: Sword & Shield—Fusion Strike expansion might be getting the headlines, but there's one Water-type Pokémon that keeps bubbling up. Its high HP, Bench-targeting Double Gunner Ability, and strong attack have been drawing attention from deck builders. So we asked three Pokémon TCG experts for their ideas on how to build a deck around this powerful Pokémon VMAX—Inteleon VMAX.
Read on to explore different ways to unleash the might of Inteleon VMAX.
If you're looking to build an Inteleon VMAX deck, here's a simple but effective idea—pair it with more Inteleon!
A family of Stage 2 Inteleon lines provides a powerful engine for Standard decks. Drizzile's Shady Dealings, for example, allows players to find their Trainer cards easily. This provides a clear advantage—Evolution Incense helps to find Pokémon VMAX, and Boss's Orders can Knock Out a damaged Pokémon on the opponent's Bench. Later in the game, Drizzile can evolve into Inteleon from Sword & Shield—Chilling Reign or Inteleon from Sword & Shield—the latter allows for searches for even more Trainer cards and big swing turns.
Inteleon can also be paired with other favorite Pokémon like Dragapult VMAX, Suicune V, and Jolteon VMAX; but it especially shines when it joins forces with Rapid Strike Pokémon such as Rapid Strike Urshifu VMAX thanks to the additional synergies it gains. For example, Sobble's Keep Calling attack can fill a Bench with Basic Rapid Strike attackers.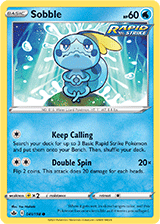 Inteleon VMAX's Double Gunner Ability works well with Inteleon's Quick Shooting. Double Gunner provides an additional way to put damage counters on the opponent's Benched Pokémon, and it can also Knock Out a low-HP Pokémon (like an opposing Sobble or Houndour). It can even put a Pokémon VMAX in range of a G-Max Spiral KO!
As a Rapid Strike Pokémon, Inteleon VMAX benefits from Rapid Strike Energy. This Energy can be used to power up its attack, added back to hands to do more damage, attached again on the next turn, and then so on. This method will never fill our Bench with Energy, but we don't need to do so!
What about if the opponent plays Marnie, though? That problem is easily solved. Simply add the Rapid Strike Energy in hand back to the deck, and then no Energy will be in play. Thankfully, we can use Octillery's Rapid Strike Search to get 1 Rapid Strike Energy from the deck when it's needed. Octillery can also search out plenty of other cards in the deck, including Inteleon and Inteleon VMAX.
Energy Cards
4

Rapid Strike Energy

3

Water Energy
Trainer Cards
3

Cheryl

2

Boss's Orders (Giovanni)

2

Korrina's Focus

2

Marnie

2

Professor's Research (Professor Magnolia)

3

Training Court

1

Tower of Waters

4

Evolution Incense

4

Level Ball

4

Quick Ball

2

Scoop Up Net

1

Capacious Bucket

1

Echoing Horn