Discover lots of printable Pokémon activity sheets for kids and Pokémon fans of all ages.
Looking for a quick and easy way to have fun with Pokémon? Check out dozens of activities designed to entertain kids and Pokémon fans of all ages. The downloadable activity sheets include coloring pages, Pokémon catchers, puzzles, mazes, and more.
As Pokémon are drawn from a deck of shuffled Pokémon TCG cards, mark the Pokémon on your bingo card. The first person to mark every Pokémon in a line wins!
Color these cool bookmarks and carefully cut them out to save your place in your favorite books!
Follow the instructions to make your own Pokémon Catcher!
Who's that Pokémon? The best Trainers know what these Pokémon are just by looking at certain parts of them.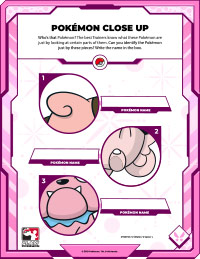 Color some of your favorite Pokémon!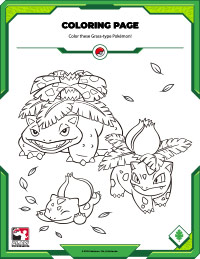 Use the words in the Word Box to fill in the crossword!
Color these signs and carefully cut them out. Hang them on your doorknob to let your visitors know how you're feeling!
Color and cut out these headbands to wear them on your noggin!
Can you find the hidden objects in these Pokémon-themed pictures?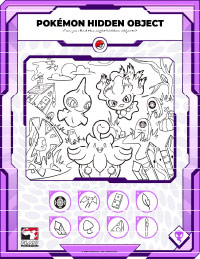 Color and cut out three layers of paper to create an amazing three-dimensional scene!
Help some of your favorite Pokémon get to the end of these fun mazes!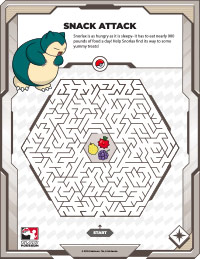 Color the page and cut out the pieces to create a Pokémon puzzle!
Use the Key to see which Pokémon represents each letter of the alphabet, then fill in the blanks with the proper letter to uncover the hidden message!
See if you can spot the real Pokémon—look for changes in color, appendages, or facial expressions!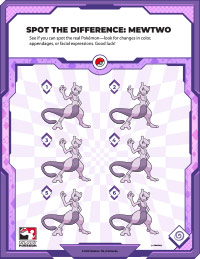 Test your knowledge and find out if you've got what it takes to be a Pokémon Trainer!
Find all the Pokémon names hidden in the scrambled mix of letters!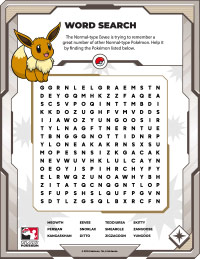 Print out and color this wrapping paper to give your gifts a Pokémon flair!