If you're the type of pet parent whose phone is 90% photos of your fur-kid, the Pokémon Presents Super Pet Contest will have you feline good. Inspired by the Pokémon Super Contests originally introduced in Pokémon Diamond and Pokémon Pearl, this contest is an opportunity to show the world just how clever, cute, or cool your pet is. And since the Sinnoh region's most popular event is making a comeback with the Super Contest Shows in Pokémon Brilliant Diamond and Pokémon Shining Pearl, available November 19, now's the purr-fect time to sharpen your Super Contest Show skills.
Notice: If you click on the YouTube video above, you will leave Pokemon.com. The Pokémon Company International is not responsible for the content of any linked website that is not operated by The Pokémon Company International. Please note that these websites' privacy policies and security practices may differ from The Pokémon Company International's standards.
---
Enter the Super Pet Contest by submitting photos of your animal companion before the deadline on November 9. With three categories to choose from—Clever, Cute, or Cool—you've got endless paw-sibilities to put your furry (or non-furry) friend in the spotlight. Fans will vote for their favorite entries with celebrity guest judge, Trainer Michelle Visage, delivering the final verdict on which pets will fetch the top prizes. The first- through fourth-place winners in each category will then be announced in a special ceremony on November 15. Prizes will include Pokémon Brilliant Diamond or Pokémon Shining Pearl, Pokémon plush, and the limited-edition Nintendo Switch Lite Dialga & Palkia Edition.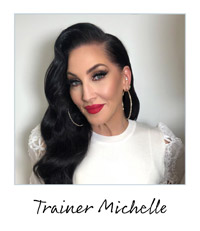 Wondering what our celebrity guest judge is looking for in winning pet photos? Here's what Trainer Michelle Visage had to say:
What are you hoping to see from fans' photo submissions of their pets?
I'd like originality, you know? When they go original, I get very excited. So, originality!
Do you have any advice for people who will be submitting photos of their adorable animal companions to help them earn votes?
The [more] over-the-top, the better! Meaning if you're gonna go cute, go so cute! If you're gonna go clever, go so clever! You know, put thought into it.
Given that you've been tasked with looking at adorable pictures of animals, how excited are you?
Oh, it's so difficult! This is the best job I've ever had! Sorry, RuPaul!
Do you have a favorite Pokémon? And if so, how would you photograph it to maximize the Pokémon's cuteness?
Well, they're all cute. Even the not-so-traditionally pretty ones are still cute. So, we all know that Michelle loves Lopunny. So how I would maximize her cuteness? Does she need to do anything more than just be? No, I don't think so—she's perfect!
Of the three competition categories—Clever, Cool, and Cute—which are you most excited for?
I love them all. And Cute just tickles me, but I'm really excited for Cool. I want to see cool pets!
Ready to share your pet's clever, cute, and cool purr-sonality with the world? Enter the Pokémon Presents Super Pet Contest!