It may be the most wonderful time of the year, but merrymaking, holiday hosting, and gift giving can be a lot of work. The Pokémon Center's got your back with everything you need for a holly jolly holiday season. From help with holiday greetings to accessories to keep you toasty and warm whilst caroling out in the snow, here are some of the Pokémon Center's hottest holiday items of 2022.
Doing the Holidays Write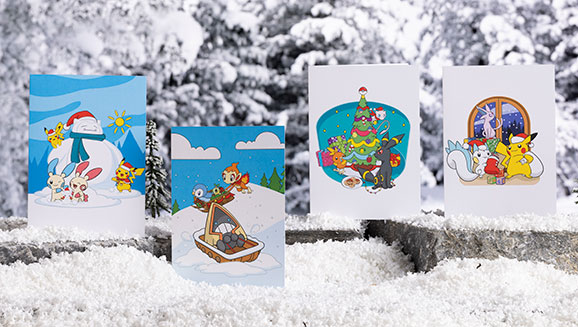 The holidays are the perfect time to reach out to friends and family. And Pokémon Center has everything you need to spread holiday cheer to everyone on your list. It's impossible not to smile at the sight of Pikachu enthusiastically building a Snorlax snowman or at Snorunt, Chimchar, and Piplup enjoying a day of sledding. With the holiday card 12-pack, you can share the magic of Pokémon enjoying their very own winter wonderland.
A Very Vibrant Pokémon Village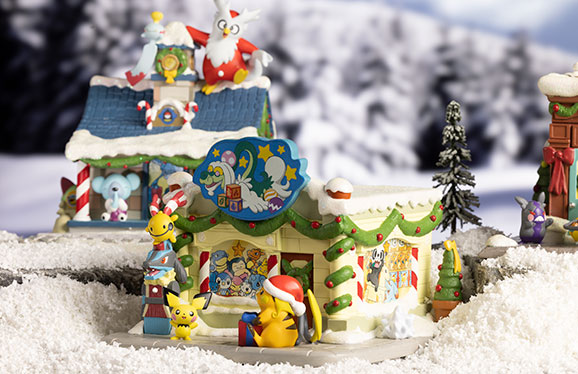 There's snow better place to spend the holidays than the Holiday Pokémon Village. Featuring four unique scenes, the village is a playful, colourful spectacle. Do some holiday shopping at the Drampa Toy Shop, savour sweet treats at the Bounsweet and Steenee Bakery, greet each new arrival at the Holiday Station Arrivals, and light up your holiday tableau with Snow Day. Whether you're giving the gift of Pokémon or making it the centerpiece of your holiday decorating, the Holiday Pokémon Village is a delightful celebration of the season.
Full Steam Ahead!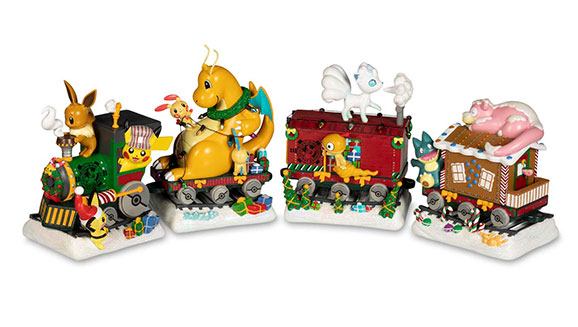 All aboard the Delibird Holiday Express headed straight for the winter wonderland of your dreams. Pikachu, Eevee, and Pichu are leading the holiday festivities from the Pikachu Engine. Dragonite's ready to brighten the holidays with a little help from Plusle and Minun. Vulpix and Scraggy are hard at work in the Alolan Vulpix Box Car. And last but certainly not least, Munchlax and Slowpoke are having a blast on the Slowpoke Caboose.
Lookin' Pine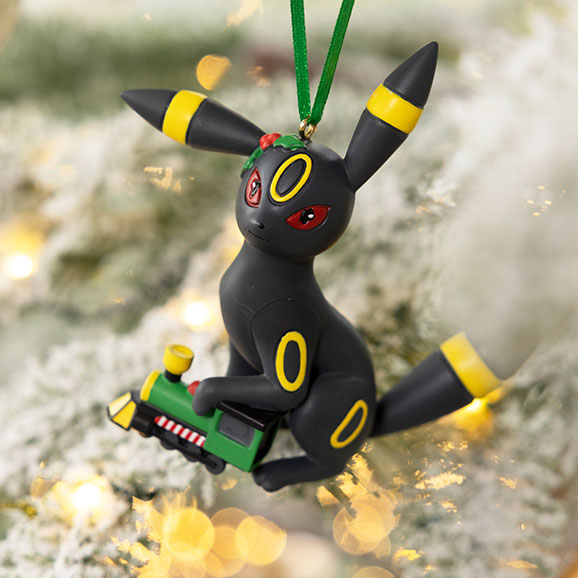 Spruce up your holiday tree with a little help from Espeon, Umbreon, and Pikachu. Together for the Holidays resin ornaments capture Pokémon enjoying the holiday season in their own unique way. Pikachu is drumming up holiday cheer with its Snorlax toy. Espeon curls up cozily with an electrifyingly cute Yamper toy. And Umbreon has received its very own toy train, which it's probably willing to share. Bring them home individually or collect them all to add a bright, festive touch to your holiday decor.
Stunning Stocking Stuffer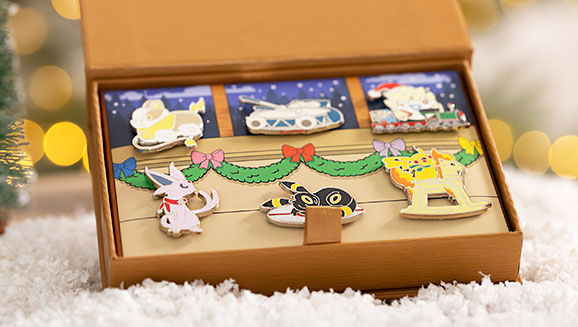 The Pokémon Center's Together for the Holidays Collectors Pin Box offers some serious gifting pinspiration. From the thoughtfully designed box to the six-pin collection depicting Yamper, Espeon, Snorlax, Pikachu, Umbreon, and Togepi enjoying a wholesome winter holiday, the Collectors Pin Box is proof that great things can come in small packages. Whether you're purchasing the pins for yourself to add some razzle-dazzle to your next holiday ensemble or as a gift for someone special, this pin collection is a true delight.
Happy Holidays, Trainers!