Pumpkins and Halloween go together like Ash and Pikachu. If you're planning on celebrating the most macabre of holidays, odds are you've got some pumpkin carving in your future. And if you also happen to be a Pokémon fan, you can download and print one of more than 70 free Pokémon Halloween stencils. From fan favorites and cuties like Eevee and Pikachu to Ghost types that complement the Halloween aesthetic like Gengar, Litwick, and Pumpkaboo, there's a Pokémon stencil for everyone!
But after you've found your favorite Pokémon and printed your stencils, what's your next step?
Whether you're carving or decorating, whatever your skill level, and however limited or extensive your tools and supplies might be, we've assembled some tips and tricks to make the most of your pumpkin carving experience. (Kids, be sure to ask your parents for help when carving your pumpkins!) We can't guarantee professional results, but if we can help you have more fun and empower you to be more creative, we'll call that a win.
Picking Your Pumpkin
This part of the process can be as simple or complicated as you want. Whether you're growing your own pumpkins, making a day trip to a pumpkin patch, or hitting the nearby grocery store, you should have plenty of pumpkins to choose from. Pumpkins, like Pokémon, come in all shapes, sizes, and colors, so if you know which Pokémon you want to carve, you can pick your pumpkin accordingly.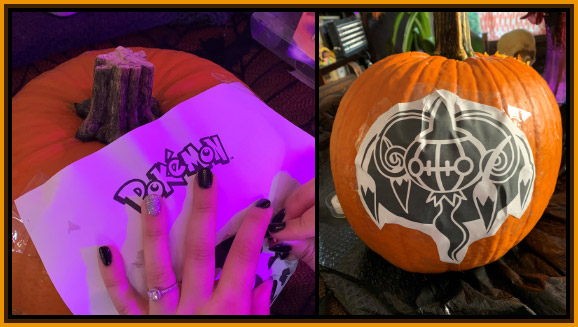 Outlining the stencil on your pumpkin might take time, but it's an essential step in the process.
A proper pumpkin patch will have any number of pumpkins varieties to choose from. If they're not labeled, just ask an employee to help sort them out. A classic orange type like a Harvest Moon or a Jumpin' Jack might be a perfect fit for Rotom or Charizard—while a more exotic variety like Queensland Blue or Blue Lakota would be great for Sobble. With colors potentially ranging from ghostly white to vivid red and zombie green, you can find a pumpkin to match just about any Pokémon.
Tools and Techniques
The best thing about pumpkin carving is that there are no rules—beyond, of course, utilizing proper safety protocols. If you like carving but want to try something different or more complex this year, it might be time to look beyond the pumpkin knife to get creative with your tools. There's no rule that limits you to the toolkit you purchased at your neighborhood grocery store. Wood carving chisels can be particularly useful, allowing you to modify the width and depth of each stroke, and chisels are usually safer and easier to wield than a knife. A basic wood carving tool set will set you back anywhere from $7 to $50 or so and is available from just about any crafts or hardware store.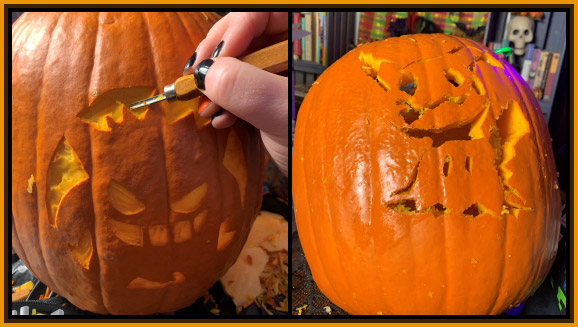 Some Pokémon are a little rough around the edges, just like these pumpkins.
If you want to add some extra power to the equation, using a drill to carve your pumpkin can decrease carve time. If you've never used a drill before or aren't comfortable using one, it might be best to stick with other tools. But if you are comfortable utilizing a drill, have access to a diverse range of drill bit sizes, and want to try something new, why not give it a try? If you are using a drill, to preserve your pumpkin's structural integrity, it's best to start drilling at the center of your design and work outward. You'll want to brace your pumpkin before you begin drilling and start slowly to give yourself time to acclimate to the process.
Whatever tools you use, contouring the inside of the pumpkin is essential to effective carving. It will be much easier to achieve a finer level of detail if you take the time at the beginning of the process to scrape away excess flesh from the pumpkin's interior while you're removing the seeds and viscera. Utilizing the pumpkin scoop tool provided in most carving kits, thin out the interior of the pumpkin on the side you plan on carving. This might seem tedious, but it will improve the overall outcome of your carve. If you're worried about removing too much skin from the interior, scrape out a modest amount and start carving before grabbing the scoop and removing more. This will also ensure that the light inside your pumpkin shines as brightly as possible.
Stencil Skills
Designing a pumpkin using one the Pokémon stencils is pretty easy. First, tape the stencil snug against the pumpkin. To ensure a close fit, cut away as much excess paper from the stencil before you begin taping. Then, punch small holes with a thumbtack or the punch tool available in your pumpkin carving kit to make small marks indicating where you should cut. Remember, you're cutting out the black portions of the stencil. Finally, remove the stencil and get to work carving out along the lines you made. Keep the stencil nearby so you can use it as a reference for which sections should be carved and which should remain.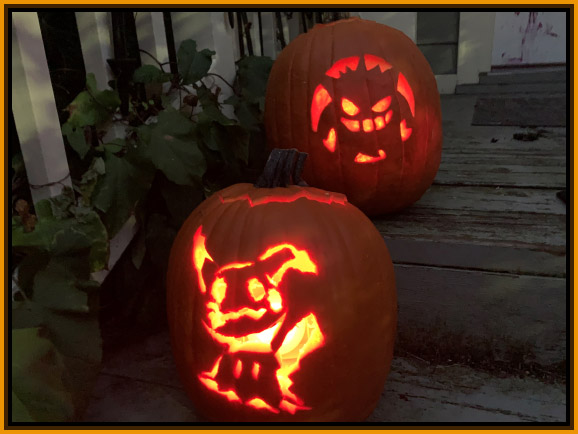 Your finished Pokémon pumpkins will add a bright, festive touch wherever you place them.
Whichever stencil you choose to work with, it's important to remember that a stencil is merely another tool. There may be occasions when modifying the stencil will result in a better carve. For example, some stencils have extremely thin lines that would be difficult for anyone but an expert to follow. When you're transferring your stencil onto your pumpkin, feel free to thicken those lines to make the carving process easier. You can also creatively modify the stencil, adding your own embellishments along the way.
The tail on the Silicobra stencil could extend around the pumpkin by carving a thin line. Scorbunny would look great with some flames on other sides of the pumpkin. Your Grookey pumpkin would look cool with leaves falling around the pumpkin, which could be easily achieved if you happen to have any leaf-shaped cookie cutters around the house. These personal details will help differentiate your pumpkin from everyone else's and can be fun to incorporate into your carve.
No Knives Necessary
If you want to get into the Halloween spirit but aren't a fan of sharp objects, there are plenty of opportunities to decorate a pumpkin without carving. Best of all, you can still use our Pokémon stencils to create something scary or adorable depending on your preference.
Glow-in-the-dark puff paint offers an easy and fun decorating solution while giving your pumpkin a nice, healthy Halloween glow at night. If you choose this option, you'll still want a small tool to punch holes in the pumpkin like described above. One nice thing about paint is that you don't have to worry about the pumpkin's structural integrity, so feel free to get as wild and creative as you want with your paint.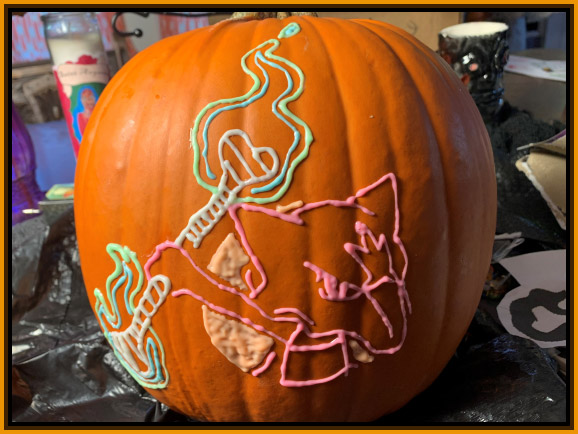 Glow-in-the-dark puff paint offers an alternative to carving.
Of course, other types of paint are also an option. From acrylic paint to an egg tempera option that will still allow you to compost your pumpkin, there are plenty of choices. If you're choosing to paint your pumpkin, be sure to check the weather forecast as not all paints are waterproof.
And you're not limited to paint only! You can use stencils, stamps, rhinestones, melted crayons, and just about any crafting material imaginable to style your pumpkin. If you want to work with a particular material but aren't sure how to get started, odds are you can find an internet tutorial with step-by-step instructions. And if you're feeling bold, you can always just wing it. Of course, if you're planning on going that route, you might consider buying a spare pumpkin or two.
Just remember that the primary goal of pumpkin carving is to have fun, so enjoy the process, stay safe while carving, and don't forget to share your Pokémon pumpkin using #PokemonHalloween on social media!