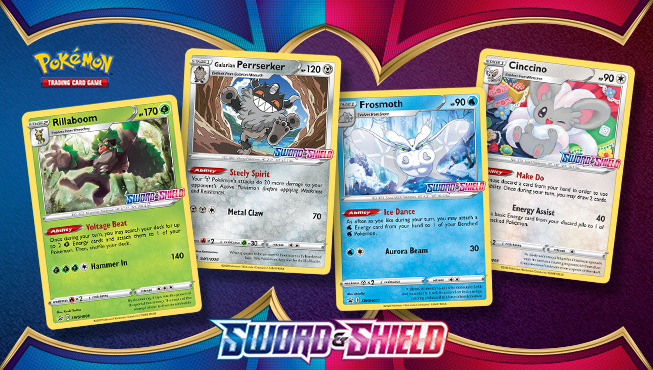 Pokémon TCG: Sword & Shield Prerelease tournaments allow players to receive and play with cards from the upcoming Sword & Shield expansion up to two weeks before the expansion's official release date!
Each participant receives a Build & Battle Box containing a 23-card Evolution pack that includes an exclusive foil promo card, plus four 10-card booster packs from the new expansion. The Evolution pack provides a solid foundation which, along with the booster packs and Energy provided by the Tournament Organizer, is used to construct a 40-card deck. Build & Battle Boxes are available while supplies last.
When are the Pokémon TCG: Sword & Shield Prerelease tournaments?
Pokémon TCG: Sword & Shield Prerelease tournaments will be held January 25 – February 3, 2020. Find times and locations of Sword & Shield Prerelease events in your area.
Remember: while we update our events schedule often, we suggest that you contact the local Tournament Organizer to confirm event schedule information.
How much does the event cost?
Tournament Organizers set the entry fee for these events. Please check the tournament listing for details.
What are the prizes?
Tournament Organizers are provided with 3 packs per player to use as prizes. The prize structure will vary by event—some events may award 3 packs to every participant, while others will award packs based on number of wins or finish order. Contact the Tournament Organizer for details.
What do I need to know?
Bring your Player ID card, if you have one. If you don't have a Player ID, one will be given to you at the event.

See the Pokémon Tournament Rules for more information about what to bring to an event.

Make sure you arrive on time. If you are late for registration, you may not be able to play in the event!

To participate in the event, you must be a player in good standing and abide by the Tournament Rules.

See the Legal Notice for certain eligibility requirements and other information, including information concerning limitations on The Pokémon Company International's liability.
What is the tournament structure?
The tournament is run using the Limited Format and Age-Modified Swiss pairings. See the Pokémon Tournament Rules for information about the Limited Format and Swiss. The number of Swiss rounds that will be played will depend on total attendance at the event. Players build a 40-card deck and play using four Prize cards.
Prerelease events are operated by independent Tournament Organizers.
Legal Notices