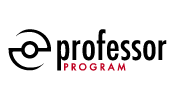 Pokémon Professors are folks who work at tournaments and Leagues, acting as judges and organizers, and adhering to the Spirit of the Game and the Professor Core Values. They are among the most dedicated Pokémon fans, and have demonstrated a thorough understanding of Pokémon games and of organized play. Professors have a desire to share their knowledge with others and to help the game grow.
Potential Professors are required to pass an exam, which tests their knowledge of game mechanics, rules, and the Play! Pokémon guidelines.
Professors can earn credits that can be redeemed for Professor-exclusive items from the Professor Rewards store. In addition, Professors who perform a certain level of service are among the first solicited to assist The Pokémon Company International at conventions and other major events, such as the Pokémon World Championships. Learn more about the Professor Rewards Program!
Do you think you've got what it takes to become a Pokémon Professor? If you're at least 18 years old, then log in to your Pokémon Trainer Club account and take the exam to find out!
Fore more information, check out the Pokémon Professor Program Frequently Asked Questions.