By contributing writer Reece Dos-Santos
There was a lot on the line for Europe's talented Pokkén Tournament competitors at the 2019 Europe International Championships in Berlin. Veterans and new Trainers alike duked it out for a shot at cash prizes and qualifying spots to represent their region at the 2019 Pokémon World Championships in Washington, D.C.
This qualifier featured the 3v3 Team Battle mode new to Pokkén Tournament DX that has been the talk of the 2019 season. Players are required to field three Pokémon, all of which would share the same synergy meter, support Pokémon, and cheer skills. The shift in format from last year brought a change in strategy and pushed many of Europe's mainstay players out of their comfort zone, adding an extra layer of tension and excitement to the event. The result was a wide-open field of competitors and non-stop thrilling battles all weekend. Read on to see who prevailed and the top strategies employed throughout the tournament.
It's a Pokémon Party!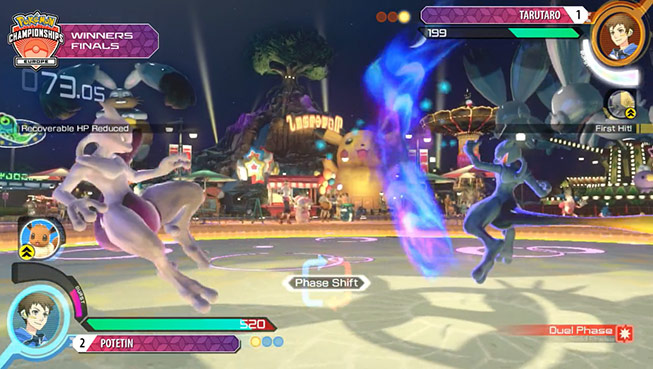 The competitive Pokkén Tournament metagame has been widening, and with it the diversity of viable Pokémon; day one of the Masters Division event saw at least one appearance from all 23 Pokémon on the roster. The day was not without its favorites, however, with multiple Pikachu and Pikachu Libre seeing action, sometimes on the same team. The mascot and the little luchador are favored by many battlers, especially in 3v3 format, for being relatively easy to pick up and play. Additionally, they're both among the fastest chargers of the synergy bar, allowing for either a swift disposal of a threat or the ability to build up a full bar to pass onto the next Pokémon in one's team.
In similar fashion, the other two picks that seemed prevalent across the board were Mewtwo and Shadow Mewtwo, picks that rocked the metagame back in February's Oceania International Challenge. Shadow Mewtwo provides a similar feel to Pikachu in its ability to sweep in, cause chaos, and either act as a battery for a later pick or swiftly knock out an opponent with a synergy burst. Conversely, Mewtwo is popular not for following this strategy but for being its counterbalance—its strong fundamentals and controlled gameplay enable one to reign in a chaotic situation. The ability to pass down a charged synergy bar also allows players to deploy Mewtwo's Synergy Burst more often, something that is a bit of a rarity due to its large synergy bar and the fact that Mewtwo loses synergy as a cost for using its Pokémon attacks.
A Senior Division Contender on the Rise
There was a ton of buzz about the presence of two top-level players from Japan in the Masters Division, but one story that went relatively undetected before the tournament was the reappearance of Emma "Kitty" Cox, the Senior Division qualifier from the Oceania International Championship. The American superstar managed to fight her way to a second Grand Finals in a row, but standing in the way was Mantas "YvelX" Mickevicius. While Emma's Pikachu Libre, Weavile, and Suicune put up a good fight, Mantas's squad of Darkrai, Decidueye, and Lucario proved too powerful to overcome. Particular attention should be paid to his Lucario, with whom he demonstrated a strong, patient neutral game and carefully applied pressure. Every vulnerability in Emma's defense was expertly exploited, including an impressive display of technical knowledge in punishing a support call of Fennekin with Decidueye's Burst Attack.
Emma showed signs of an impending comeback in game three, but Mantas's focus and resolve held strong, and his Lucario clutched out a 3-0 in the set, earning Mantas a spot alongside Emma at this year's World Championships. It was an incredibly hard-fought and impressive end to an undefeated run. Due to Emma having already qualified, the Worlds spot she would have won at this event was passed down to Indigo "Indigomega" Staples, who managed to secure third place.
Strong Offense Leads to Successful Defense
Niklas "DefenderOfEU" Laerbusch arrived at the event with a mission, so much so that he renamed himself after it. But things didn't initially go as planned for the player normally known as "Wingtide." Niklas, viewed by many as the current number one player across both Europe and North America, squared off against one of the two Japanese players in the winners side semi-finals: Masami "Potetin" Sato—known mostly for being the Season One Pokkén Tournament World Champion. Masami made quick work of Niklas, showcasing the skills that earned him the first ever World Championship. Especially noteworthy was his crisp Weavile gameplay, which hadn't seemed to age a day since 2016. Niklas didn't relent from the loss, however, and proceeded to run through the lower bracket. He took out his regional top rivals Jose Manuel "LCF" Sanjuan Carreno and Fabian "Fabilous" Zahn, the latter of whom clinched the final available qualifier spot for finishing fourth. This is Fabian's third time qualifying for the World Championships.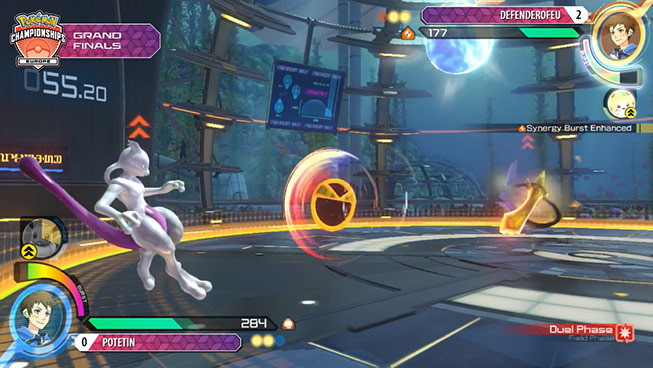 Niklas's next opponent in the lower bracket finals was the other Japanese competitor at the event, Kota "Tarutaro" Arakaki, known for being a world-class Gengar player and the World Championship runner-up from last year. With another shot at his original mission in sight, Niklas struck back strong with an especially stellar performance from his Lucario and Aegislash. In the deciding match, with each competitor down a Pokémon, Niklas's Aegislash started round three with just 52 HP yet managed to fend off Kota's Chandelure. With momentum in his favor and the energized crowd on his side, the Defender of EU rose to the occasion and shone. When the match came down to that same Aegislash and Kota's Gengar, the Niklas managed to back his opponent into the corner and keep him there. It was a top-level display of pressure, including two perfectly timed parries of Kota's attempts to break out the corner—only leading to further punishment.
With that victory, a rematch between Niklas and Masami "Potetin" Sato was in store for the Grand Finals. The former champion started the set strong once again, but Niklas's Machamp hit back hard with a clutch sweep of all three of Masami's Pokémon. On a roll, Niklas proceeded to run wild, landing a string of key grabs and keeping his opponent from ever being able to relax. A full bracket reset and five straight games later, the Defender of EU was now fully in the driver's seat. In the closing moments of the final round, Niklas's Aegislash kept his adversary on the ropes with expertly planned use of charged homing attacks in field phase to deny Masami the use of the fully charged synergy bar with which he started. The result: Niklas pulled off a historical six-game sweep against the 2016 World Champion, successfully accomplishing his named mission, much to the euphoria of the home crowd and his fellow competitors.
Once again, all the Pokkén Tournament matches were deeply entertaining, and it was exciting to see such expert skills on display from players from around the globe. Congratulations to everyone who qualified for the Pokkén Tournament World Championships taking place in Washington, D.C. in August.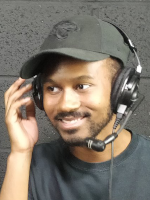 Reece Dos-Santos
Reece Dos-Santos is a contributing writer covering Play! Pokémon events for Pokemon.com. He is one of the earliest members of the Pokkén Tournament community, as well as a long-time veteran and commentator from the fighting game community. Reece can be found online at Sabrewoif.