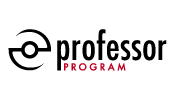 Welcome to the Pokémon Professor exam! 
Prospective Pokémon Professors must take a Professor test to demonstrate their knowledge and familiarity of both the Pokémon TCG and video game rules, as well as the procedures involved in organizing and executing official Play! Pokémon activities. In addition to passing this test, Professors must be at least 18 years old to enter the program.
Before you begin, there are several important things you should be aware of:
The Professor exam is a timed test. You will have 45 minutes to complete all of the answers and hit the Submit button. Any test submitted after the time limit is up will result in automatic failure of the exam.

There are 40 questions on the exam, covering card rulings, game mechanics, and tournament procedures. You must answer at least 32 questions correctly to pass the exam. If you answer fewer than 32 questions correctly, you will be required to wait two weeks before you can take the exam again. Once you complete the exam, you will be able to see your results. You will be shown a list of the questions you missed; however, if you failed the exam, the correct answers will not be displayed. After each subsequent failure of the exam, you will be required to wait one month before you can take the exam again.

If you pass the exam, you will receive an email welcoming you to the Professor Program.

If you refresh the page during the exam or if you navigate away from the page, the system will register this as a time-out, and you will be locked out of the exam, as described above.
If you experience any problems during the exam, please contact customer service for assistance.
Note: You must be logged in to your Pokémon Trainer Club account before taking the exam.
<button>Start the exam!</>